skin mood
Winter is coming
Winter lights may be aglow, but this cold, dry season can leave skin looking less than luminous. Those fireside evenings and long, hot showers we so desperately love during the chilly season are the very things that can leave skin looking tired and dull. Even with the lack of light outside, your skin can still glow with the right care and products.
What is a skin "glow"?
Glowing skin is skin that is hydrated and soft, not dull, dry or flaky. Glowing skin is skin that has been thoroughly cleansed and removed of impurities, moisturized regularly and nourished both with a healthy diet and an effective daily skincare routine.
The skin glows when it is smooth enough to reflect light. When dead skin cells pile up, the skin repels light and becomes dull. Increased circulation is also key to glowing skin. Make sure to exercise regularly to increase the blood supply to the surface of the skin and make it appear rosy and glowing when reflected in the light. Eating a healthy diet with foods rich in Omega-3s can also help skin glow from within and make sure to get enough sleep, since lack of sleep can impact hormone levels and cause skin to lose its luster.
How can I heal and regenerate my skin when it loses its glow?
In only 8 days, the antioxidant, hyaluronic acid and high concentration (5%) of Life Plankton of our iconic product Life PlanktonTM Elixir will make your skin glow again as if spring has already arrived. This fundamental serum defends, reinforces and regenerates skin, enabling it to renew itself. Use Life PlanktonTM Elixir every morning and, for even better results, every night too. As the weather gets colder, renew and refresh your skin, and prepare it to enhance the absorption of the rest of your hydrating winter routine.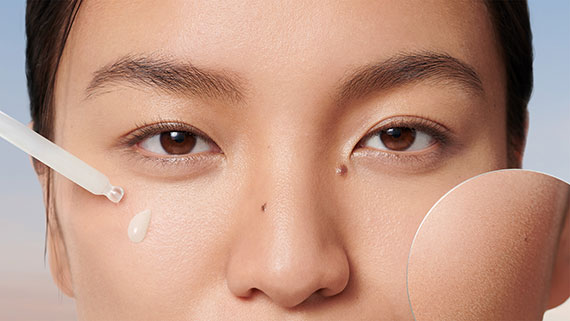 What is the secret to a face that glows even in winter?
Your skin can glow even in the cold and snow. Revive your skin's natural ability to reflect light with the hydrating power of Aqua super concentrate glow. Infused with Biotherm exclusive ingredient Life Plankton™ water and vitamin C complex, this moisturizing emulsion intensely heals dull skin, uneven skin tone and dehydrated skin by boosting your skin's natural ability to glow. Instantly and day after day, this micro-emulsified fluid formula replenishes your skin with energy and a natural glow for healthier-looking dewy skin and 24 hours of moisture.
How can I hydrate my skin from head to toe?
We protect ourselves by layering up our clothes when we face harsh winter weather, but we often forget to do the same for our skin. Swapping your usual light, summer-skin moisturizer for one with a thicker, creamier consistency is one of the best ways to protect your skin from the drying effects of harsh heating and cold weather. Lait Corporel L'Original is the ideal moisturizing lotion for dry skin. This iconic lotion boosts skin hydration to help reduce flaky, peeling skin. It restores the skin's moisture barrier and improve elasticity. Plus, its smooth and fresh texture and sparkling citrus fragrance make it an addictive addition to your winter self-care ritual. It is perfect for very dry skin because it absorbs quickly to repair, moisturize and leave the skin feeling soft and supple.