skin mood
As the year wraps up, the days are filled with cozying up by the fire, holiday celebrations and spending time with loved ones. However, cold air, wind and extra stress levels can make the skin look older especially when combined with urban aggressions and Holiday festivities. oes it feel like your youthful skin has decided to hibernate for the season? Bring it out of its hiding place with just a few skincare fixes.
Step 1: Heal skin with Life Plankton™ Elixir
Life Plankton™ Elixir is the first step to every skincare routine, every day, every season. Life Plankton™ Elixir is skin's best ally against urban accelerated aging. This fundamental serum defends, reinforces and regenerates skin, enabling it to renew itself. This serum is infused with our exclusive skin care ingredient Life Plankton™ at its highest concentration combined with powerful actives of natural origins — Hyaluronic Acid and Vitamin C – to help the skin become stronger. The serum stimulates the skin metabolism and improve the regeneration process, actively slowing down accelerated aging, ensuring a smoother, firmer, stronger skin. In 8 days, the skin is visibly younger.
Step 2: Target signs of aging with Blue Therapy
Biotherm's Blue Therapy line targets signs of aging thanks to Algae of Youth, a 100% natural seaweed that reactivates the metabolism of aging cells and reduces the appearance of known signs of aging like wrinkles and dark spots. Give your skin a cold weather lift with the Blue Therapy Red Algae Uplift collection. Healing Life Plankton™ and Algae of Youth are combined with Red Algae that helps to protect collagen fibers and prevent elastin fibers from breaking down. The skin looks firmer, more radiant, tighter, lifted and face contours look more defined and younger.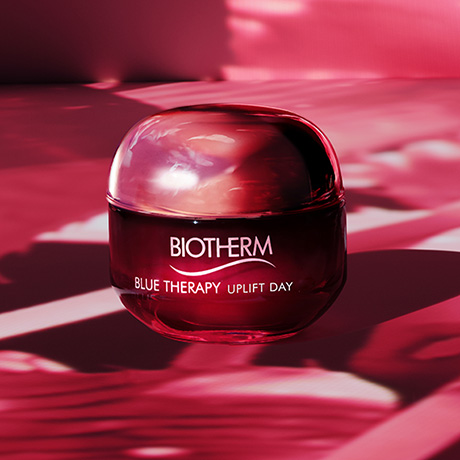 Step 3: Give your body extra care with Life Plankton™ Body Milk and Oil
Wintertime is the start of the most joyful season, but it can also be quite a stressful time. It is important to relax and take just a bit of time each day to focus on self-care from head to toe. Life Plankton™ Body Milk is powered by Life Plankton™ and enriched with canola, almond and olive oils to help the skin feels and looks firmer, smoother, and more hydrated. It reinforces the skin's protective barrier to prevent premature aging from urban aggressions and seasonal indulgences. Life Plankton™ Body Oil also stars regenerating Life Plankton™ blended with natural oils to reduce stretch marks, improve skin elasticity and deeply nourishing it. Apply Milk and/or oil and rub gently all over your body to turn your home into a luxurious spa.
Step 4: Help out your hands with Biomains
Along with the eyes and neck, your hands are one of the first areas to show signs of aging. Youthful hands – and nails! - are still within your reach. Apply Biomains several times daily, particularly after washing your hands, to protect, regenerate, moisturize, smooth, and soften the skin. This age-delaying hand and nail treatment works even on the most dry skin and strengthens nails day after day. UVA/UVB filters act to protect the skin against UV rays and premature aging, glycerin hydrates and reinforces the skin's barrier to protect it from aggressions like cold or wind, D-Panthenol repairs and soothes, and Life PlanktonTM heals, renews, and protects the skin.
Step 5: Take a self-care break to heal your skin with Life Plankton™ mask
While the winter chill outside may make you tempted to turn up the heat inside, try not to. Blasting hot air indoors only makes the air drier and the drier the air, the drier your skin. If your skin does start to peel or crack, rescue it with a Life Plankton™ mask. Use this skin rescue hydrogel facial mask twice weekly when your skin shows damage, appears lifeless, feels dry and tight or looks red and irritated. Wake up to luminous, smoother, bouncier skin with the healing power of Life Plankton™ at its most-concentrated state in a leave-on mask.