Tips for men
What better time to start a new routine than the start of a new year? Kick off 2021 with our tips for more hydrated, younger-looking skin.
Your 2021 Hydration Routine
The start of the year is also the middle of winter, a time when skin tends to be extra dry and sensitive. The cold weather causes the skin to retain less moisture, making it the perfect time to boost hydration with the right products and a daily ritual.
Your New Year Anti-Aging Ritual
The majority of aging on the skin happens as a result of urban aggressions like pollution, sun exposure, weather, stress and other external aggressors.
Winter cold and wind can suck moisture from the skin and exacerbate signs of aging. Fight back and heal signs of urban accelerated aging with this New Year anti-aging ritual.
STEP 1 : Force Supreme cleanser
This creamy & comfortable anti-aging facial cleanser cleanses the skin without harshness and leaves it instantly smoother. This daily cleanser is powered by exfoliating micro-particles and Cedar bud extract with Blue Algae extract to remove impurities and instantly smooth the skin.
STEP 2 : Force supreme Life essence
Boost skin's youthful look with this ultra-concentrated essence that targets all signs of aging with an instant effect on sagging pores and skin quality. After cleansing, think of this as your 'Step 0' to maximize the effects of the rest of your New Year Anti-aging ritual. With 5% of Life PlanktonTM, in just 5 days, it visibly resizes enlarged pores and smoothes age-altered skin texture. Plus, this light water texture is non-sticky and non-oily and penetrates instantly into the skin.
STEP 3: Build youthful skin with Force Supreme Youth Architect Serum
Force Supreme Youth Architect Serum targets and rebuilds skin structures damaged over time. It smooths fine lines, boosts skin cell regeneration and firms and protects the skin from daily aggressions.
Life PlanktonTM heals, renews and protects the skin, Blue Alga Extract has a smoothing and anti-aging action and Pro-Xylane reinforces dermal structure and volume by boosting GAGs and collagen and replenishing skin tissue. Lighter than a cream, this men's anti-aging serum will absorb into the skin so quickly, you will not even feel it. Apply it morning and/or night.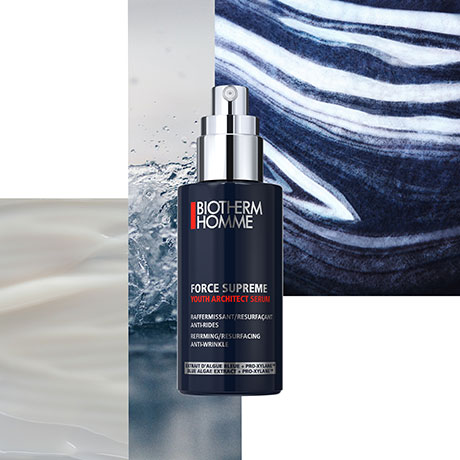 Step 4: Repair and firm with Force Supreme Youth Architect Cream
Force Supreme Youth Architect Cream is a 3-in-1 cream that blends Algae of Youth, pro-Xylane and Life PlanktonTM. It repairs, firms and strengthens skin to act on 5 visible signs of aging, namely: sagging skin, wrinkles, dark spots, dullness and dryness. It is specifically designed for men's skin and is suitable for sensitive skin. Apply it morning and night after Force Supreme Youth Architect Serum.
Step 5: Awaken tired eyes with Force Supreme Eye Architect serum
Signs of aging are often first noticed around the eyes with wrinkles, puffiness or dark circles. Force Supreme Eye Architect Serum firms and revitalizes the skin under your eyes to blur and smooth fine lines, depuff the entire zone and fade dark circles. Apply morning and/or night to the eye contour area. Massage it gently to boost circulation in the area.