ask biotherm
Winter is filled with joyful gatherings, a festive spirit, snowy days, and cozy nights. However, this merry and bright season can also bring dry, peeling skin. This is due to several different factors.
Why does skin become dry and peeling in winter?
Cold air and wind. As the air temperatures drop, so do humidity levels that zap moisture from your skin cells. When wind hits the skin, it draws out moisture and causes the skin barrier to break down causing irritation, dryness, redness, and flakiness. When it gets cold outside, your skin's reaction is to try to conserve heat by constricting blood vessels, but this dries out the outer layers of the skin.
Indoor heat and baths. When it is cold outside, it is natural to warm up inside with central heating, wood-burning stoves, space heaters, and fireplaces, however, all of these reduce humidity and dry your skin. Taking long, hot showers or baths can also dry out your skin.
Stress and fatigue. As the year comes to a close, our skin – like our mind and body – is tired, more fragile, and more prone to urban aggressions such as pollution.
In other words, cold weather is slowly robbing your skin of moisture, but the outermost layer of your skin needs it to form its protective barrier and keep skin flexible, firm, and strong. When this barrier shrinks, skin gets cracked, dry, and peels.
How can I tell if my skin is dry?
Dry skin typically looks dull, rough, and flaky and feels tight after cleansing. If it is red, itchy, and burns when you wash it, then it is likely so dry it has developed increased sensitivity.
How can I heal dry, peeling skin in winter?
If you feel that your skin is dry this season, do not worry – there is hope. Bring joy to your skin with our Winter Skin Rescue plan designed for every skin type to bring back moisture and balance.
Step 1: Strengthen your skin with Life Plankton™ Elixir
Winter is no match for the regenerative power of Life Plankton™ Elixir. This deeply healing serum helps to strengthen the skin's barrier so it can resist urban aggressions like pollution, stress or lack of sleep which can cause an acceleration of the aging process and also dryness. Infused with Life Plankton™ at its highest concentration, this serum soothes and regenerates dehydrated skin, while visibly reducing signs of aging. In only 8 days, your skin will look smoother, more even and signs of aging are visibly reduced.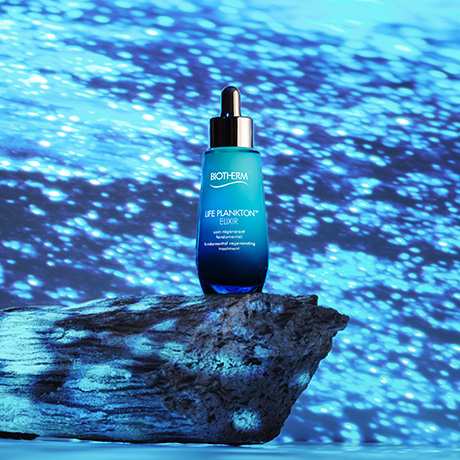 Step 2: Wrap yourself in a cocoon of comfort with Aquasource Cocoon
Whether your skin is dry all year long or just in winter, Aquasource Cocoon is the ideal seasonal treatment. Its texture is light as a gel, but as deeply nutritious as a balm, the extra boost of nourishment and protection your skin needs to survive the winter. The healing power of Life Plankton™ and Mannose come together to reinforce the skin's natural defenses and helps to lock hydration at the core.
Step 3: Take care of your body with Lait Corporel L'Original
To prevent dryness after bath or shower, apply our Lait Corporel L'Original right away while the skin is damp for maximum absorption. This body milk is the ideal moisturizing lotion for dry skin. It boosts skin hydration to help reduce flaky, peeling skin, restore the skin's moisture barrier and improve elasticity and is absorbs quickly to repair, moisturize, and leave the skin feeling soft and supple.
Step 4: Hydrate your hands with Biomains
Washing your hands frequently can help to prevent colds, flus, and viruses, but it can make your hands even drier than they already are once winter hits. Whenever you wash your hands, be sure to apply Biomains to replenish the skin's protective moisture levels. Glycerin moisturizes and reinforces the skin's barrier to protect from external aggressions like cold and wind. Think of Biomains as a protective layer for the skin of your hands, that protects the skin against the appearance of signs of aging and dark spots thanks to a combination of UV filters and an anti–free radical system.
Step 5: Treat your eyes with Life Plankton™ Eye cream
The skin under your eye area is thinner and even more delicate than on other parts of your body or your face, so it is natural that cold weather or sleepless nights can cause the skin under your eyes to dry out, become flaky and irritated or develop eye bags, dark circles, or puffiness. Life PlanktonTM Eye cream envelopes the eye contour area to instantly form an additional natural skin barrier. Its hydrating, anti-aging formula protects the under-eye area from further aggressions and keeps it hydrated and nourished to prevent eye bags and dark circles.