Tips for men
Valentine's Day is the perfect time to show your skin some love and show someone special how much you care. Treat yourself or the object of your affection with these Biotherm gifts for him and for her that also give love to the planet with formulas and packaging designed to protect our oceans. Valentine's Day gifting has never been easier with gifts sourced from nature, amplified by bioscience.
Better Together: You will love these Biotherm duos
Meet the ultimate 'it' couples for radiant skin. Men and women's skin are different due to physiological and hormonal factors, plus behavioral differences. For example, male skin is on average 20% thicker than female skin, contains more collagen and has a sebum production double that of women. Different skin requires tailored treatment for similar concerns. These Biotherm dynamic duos are the ultimate product power couples to heal skin from urban aggressions and address winter skin concerns like dry skin or signs of aging.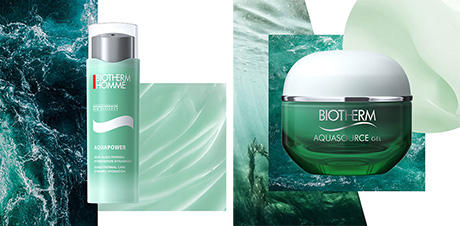 Aqua source X Aqua Power
The couple that hydrates together, stays together. This power couple is perfect for younger skin seeking hydration in winter. Fight winter dry skin with Aquasource Gel, 48 hours of intense regenerating hydration to transform even the dullest complexions and most dehydrated skin. Aquasource Gel is the ultimate moisturizer. The illuminating power of medicinal Aura Leaf infused with Life PlanktonTM water reactivates the skin's moisture mechanism to visibly transform the skin and power its natural ability to glow. Aquapower Gel Moisturizer revives skin to hydrate, soothe and keep it comfortable all day long, especially for men with dry skin. It features a lightweight cream-gel texture that dissolves into the skin for absolute hydration to leave skin smooth, soothed and comfortable all day.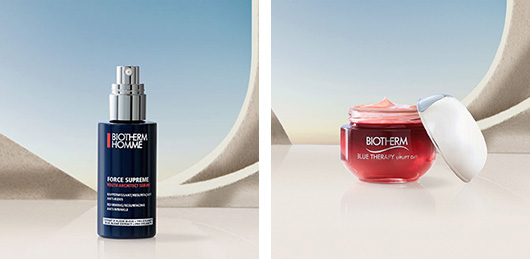 Blue Therapy Red Algae Uplift Cream X Force Supreme Youth Architect Serum
Grow younger together with this amazing combo of anti-aging products for more mature skin, both for her and for him. Blue Therapy Red Algae visibly lifts and firms skin structure while reinforcing skin's youthful glow. Force Supreme Youth architect serum is the ultimate anti-aging must-have for men to help strengthen, firm, smooth and refine skin and diminish fine lines and wrinkles. Both products reduce visible signs of aging and firm and smooth the skin.
Looking for the perfect Valentine's Day gift for him or for her?
A gift for her : Life Plankton™ Elixir Gift Set
The ultimate gift to renew her skin with the healing power of Life Plankton™ Elixir.
This fundamental serum is the first step to every skincare routine to reset skin skin from urban damages. Now in a recycled beauty gift set made with 100% recycled paper and plastic-free packaging for a gift for her skin and for the oceans.
A gift for him : Aquapower Gift Set
Show him the power of your love with this hydrating gift set. Aquapower strengthens men's skin to face the city pace. Treat him and his skin to a moment of instant refreshment and 48 hours of non-stop hydration and a 100% recycled paper and plastic-free gift set with the oceans in mind.