Tips for men
The seasonal change from fall to winter often brings many great experiences: ski trips, fireside moments, etc. However, the sudden drop in temperature can also result in dry, itchy or reactive skin.
Do you feel like the arrival of winter coincides with your skin suddenly acting up? If so, you are not alone. For most of us, the shift of temperatures can wreak havoc on our skin, leaving it dry, dull, flaky, and reactive. This is because the skin, like many parts of us, likes consistency, so when the temperature changes, it is a shock to our skin barrier. Winter, in particular, strips your skin of moisture and of its natural moisturizing oils. Use of a heater, hot showers and hot tubs further rob the skin of natural moisture and oils, while harsh winds can leave skin feeling even drier. The loss of moisture in the skin results in that dry, itchy and tight feeling we all know. In the wintertime, it is best to incorporate ultra-hydrating ingredients and opt for products rich in high quality ingredients to help lock in hydration.
Luckily, as the leader in men's skincare expertise, Biotherm Homme has created a solution for every man's skin type to help combat the harsh winter effects on the skin. Continue reading below to find your skin concern and the routine best suited to maintain hydrated, healthy skin even during the harshest winter days.
In need of hydration?
One of the most common skin complaints during the winter season is that tight, dry feeling that comes from lack of moisture in the skin. As mentioned above, this is due to several reasons including harsh, cold temperatures and use of space heaters. To top it off, the constant switch between the cold outdoors and warm indoor heating shocks the skin barrier even more, resulting in a further loss of natural moisture. But do not stress, we have the solution for you. With daily use of these two powerful products, your skin will be met with intense hydration.
AQUAPOWER LOTION
As lightweight as water, yet as active as a treatment, this daily first step penetrates deep into the skin barrier. The skin is instantly hydrated, softer and stronger against daily aggressions. Apply on clean, dry skin to alleviate feelings of tightness and moisturize your skin throughout the day.
AQUAPOWER GEL
With a lightweight gel texture, this moisturizer packs a powerful punch of moisture in a texture that glides onto the skin and does not leave a sticky or heavy sensation. Upon application, you will feel an immediate feeling of freshness that lasts for 48 hours. With a super charged concentration of 5000l of Life Plankton™ Water daily use helps to maintain the skin's moisture levels even in the coldest weather.
Are cold temperatures resulting in signs of aging?
Did you know that the drop in temperatures and humidity during the winter months not only can leave the skin feeling dry and flaky, but also appearing older looking? Even using the same skin products you have during the warmer summer months can affect your skin's appearance. For skin that defies age in any season, follow the daily routine suggested below.
FORCE SUPREME YOUTH ARCHITECT SERUM
The #1 Biotherm Homme advanced anti-aging serum was developed to target and rebuild the skin structures damaged over time. The formula, rich in the skin rebuilding Blue Algae Extract and skin densifying Pro-Xylane™, was derived from nature and amplified through the power of bioscience. This powerful serum offers super fast penetration and a unique sensoriality for firmer and revitalized skin, smoothed fine lines and wrinkles thanks to its patented formulation technology
FORCE SUPREME YOUTH ARCHITECT CREAM
This non-sticky and non-oily light blue cream was designed specifically with men's skin in mind to help reshape the contours of the face and restores skin firmness and youthful appearance. Formulated with a 3-in-1 multi- tasking complex: Algae of Youth™ + Pro-Xylane™ + Life Plankton™, it repairs, densifies and strengthens the skin, acting of 5 visible signs of aging concerns: sagging skin, wrinkles, dark spots, dullness, and dryness.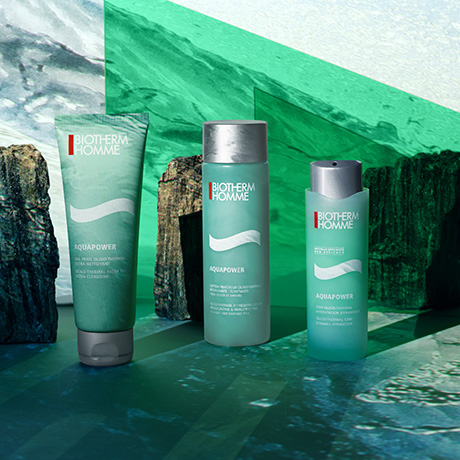 Have you noticed a sudden increase in imperfections or visible pores?
Studies have shown that moderate-to-severe acne can increase up to 11% during the winter months. One of the reasons your skin tends to act up in cold weather is a result of sebum, a type of oil that the small glands of the skin secrete. Sebum helps maintain your skin's moisture levels, but too much can lead to clogged pores and breakouts. The dryer the conditions, the more sebum your skin will produce. For those who are seeing their skin becoming more reactive than usual, the routine below is just for you.
T-PUR ANTI-OIL & SHINE BI-PHASE LOTION
A salt-infused bi-phase lotion that instantly mattifies and purifies the skin thanks to an anti-adhesion formula. The first phase combines Life Plankton™ with purifying sea salt for instant skin regeneration. The second utilizes the unique absorbing powers of Perlite Powder to clear and mattify the skin's appearance. For best use, put 3-4 drops of the lotion onto the palm of your hand and smooth from forehead to chin.
T-PUR ULTRA-ABSORBING & MATTIFYING MOISTURIZER GEL
Empowered with Purlicium technology, a moisturizing formula that absorbs sebum excess and helps protect skin against pollution particles adherence for a matt and anti-shine result all-day-long. This fresh gel texture moisturizer leaves the skin feeling non-oily, non-greasy and is quickly absorbed into the skin. Use morning and evening for best results.