Tips for men
What causes a dull complexion?
A dull complexion is the result of excess dead skin cells that build up on the surface of the skin. This causes the skin to become dry and damaged, rough, or bumpy, and lose its natural luminosity. When your skin cells are alive and well, light bounces off your face like a mirror, making your complexion look bright. When cells are dead, less light bounces off of the skin, making it look dull and pale.
Dull skin is one of the most common skin issues for men and can be caused by several factors including age, pollution and stress.
1. Age
When you are younger, skin naturally exfoliates every couple of weeks. This means that every time the outer layer of dead skin cells is shed, you wake up to a fresh, youthful complexion. As you age, the dead skin cells pile up.
2. Pollution
Urban life can be exciting, but when it comes to your skin, it is a recipe for dullness. Polluted air contains tiny particles such as dirt or sulfur dioxide that damage collagen and causes uneven skin tone and texture that make skin look dull.
3. Stress
The root of all evil. You know it, but it is hard to escape it, especially in urban environments that can keep you on edge. This causes cortisol levels to rise so your "fight-or-flight" response kicks in and blood flow goes to your vital organs instead of your skin (reminder: it is an organ too, the largest one in the body!) Without proper blood flow, the skin looks even duller.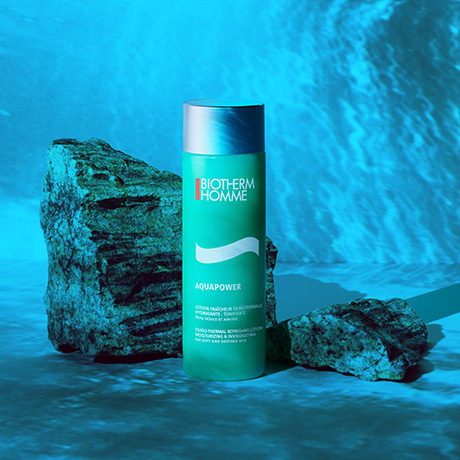 How can you prevent and treat a dull complexion?
It is as easy as this 1..2…3 steps routine to put the winter "wow" factor back on your face.
STEP 1: Cleanse & Tone with Aquapower Cleanser & Lotion
Cleansing is the enemy of dull skin. You shed millions of skin cells a day and unless you do something to actively remove the ones that do not fall off naturally, the skin will look gray and sallow. Cleansing helps to wash away all the sweat, dirt or excess oil that accumulates throughout the day or night. Think of it as a dustbuster for dead skin cells. Cleanse with Aquapower Facial Cleanser in the morning, at night or after a midday workout if you have worked up a sweat. This powerful double-action foaming facial cleanser removes impurities while refreshing and reinforcing the skin. The combination of oligo-elements and potent cleansing agents leaves the skin soft, comfortable and exceptionally fresh. Cleanse before a shave, then follow with Aquapower Lotion to hydrate and invigorate the skin with a soothing sensation. It corrects skin's appearance after the aggression of a razor and leaves it even and bright all day.
STEP 2: Moisturize with Aquapower Gel
Loss of hydration from under the surface of the skin makes the skin thinner and more prone to aggressions. Moisturizing the skin helps to form a protective layer so the skin can defend itself against toxins like pollution, smoke or stress. Aquapower gel is like an all-day irrigation system for your skin, a cooling shot of nature that continues to hydrate the skin for 48H. It quenches the skin's thirst and leaves it looking softer, suppler and brighter all day thanks to regenerating Life Plankton™ and oligo minerals that sustain the skin's natural defense system.
STEP 3: Treat tired eyes with Aquapower eye hydrator
"You look tired." Hearing that a lot this season? Keep your eyes on…your eyes. Wake up tired eyes and prevent dull skin with Aquapower Eye Hydrator. It cools the eye area and harnesses the power of "breathing algae" (aka Chlorella vulgaris extract) mixed with caffeine and Life Plankton™ for a depuffing effect. This non-sticky, non-greasy formula reduces undereye bags and soothes sensitivity in the eye zone. The eye contour instantly feels fresher and, day after day, bags are less visible.