Tips for men
When it comes to skincare, men's needs differ from women's. But like women, men take care of their appearance and desire a healthy, strong, protected skin. For 35 years, Biotherm Homme has understood the needs and particularities of men's skin to assist them in their daily lives by tackling daily aggressors head-on with efficient skincare products.
Thanks to our men's skin knowledge, Biotherm Homme has developed products specifically designed for men. As a real leader and pioneer in the world of skincare, we have been taking the best from science and nature and bring it to men's skin for the most regenerative products ever. Read on to discover how Biotherm Homme has been a leader in men's skin expertise for 35 years now and what makes the brand so unique.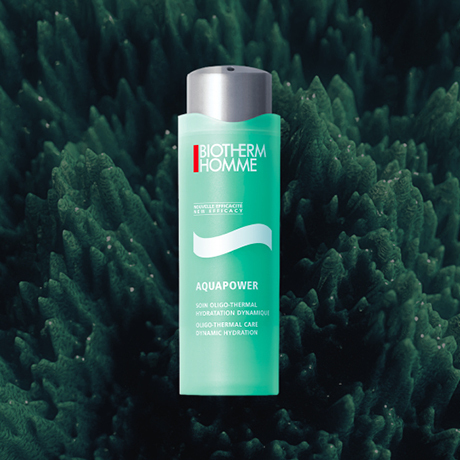 Biotherm Homme: a pioneer and leader in men's skin expertise
Since becoming an innovator in skin biology when it discovered the benefits of Life Plankton™ in 1952, Biotherm has been using the incredible regenerating and healing force of Life Plankton™ in advanced skincare solutions for men and women.
Because we know men's skin is biologically different from women's skin, we created Biotherm Homme in 1985, premium skincare solutions adapted to visibly heal and renew men's skin thanks to the power of nature. Under the influence of male hormones, men's skin is about 13% thicker than women's skin, which gives it greater resistance to damage in the long term. At the same time, testosterone influences the lipidic cement in the stratum corneum – which is responsible for its cohesion – making it thinner than in women. The barrier function of the skin is thus weaker, making the skin more fragile.
Biotherm Homme acts to preserve men's skin from the damages caused by intense urban lives, also called urban accelerated aging with products that strengthen, protect, and make their skin look younger and healthier.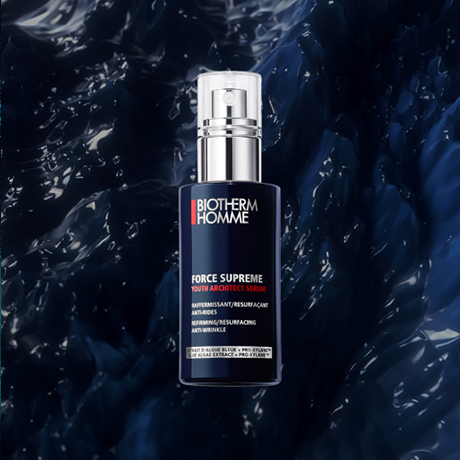 Biotherm Homme: a product for every men's specific needs
Since we first launched a range of four products for men in 1985 (which already included "Actif R", the first men's anti-wrinkle cream), Biotherm Homme has been accompanying men and their evolving skin needs ever since. Among our first men's products, there is the "Actif Regenerant", one of the first fresh gel with little oil particularly adapted to men and the "Actif Total Regenerant", the first skin perfecting care and the first generation of serum for men.
And we have not stopped in our pioneering with the development of several ranges of products adapted to every men's skin type, concern and lifestyle. Among the most iconic, you will find Aquapower for dehydrated skin, Force Supreme for anti-aging care, T-Pur Anti Oil and Shine for oily skins, and many more.
We help men stay ahead of time and defy aging with Force Supreme, a range of innovative products and advanced skincare expertise to refirm and revitalize men's skin. The innovating Force Supreme Youth Architect Serum has become an indispensable in any anti-aging skincare routine to reduce wrinkles and firm the skin. This iconic serum helps men defy skin aging and stay ahead of time. Enriched with ultra-powerful anti-aging actives Blue Algae Extract and Pro-Xylane™, Force Supreme Youth Architect Serum resurfaces men's skin and visibly repairs signs of aging. In four weeks, skin is stronger, firmer, and younger-looking.
Furthermore, as a leader in hydration, Aquapower supports men in their intense urban life by reinforcing their skin to fight external aggressors (pollution, climate, shaving…). Number one in the hydration segment, the Aquapower normal to combination skin moisturizer hydrates the skin while leaving it healthy, radiant, stronger, and softer. With its oligo-thermal formula — a combination of hydrating, revitalizing amino acids, vitamins E, C and B5 further boosted by soothing Life Plankton™—, this ultra fresh gel leaves the skin with a comfortable feeling all day long, and helps the skin remain moisturized no matter the conditions. Day after day it becomes more resistant and stays fresh without a sticky feeling.
Biotherm Homme: exceptional ingredients powered by science and nature
Using advanced bioscience technology and high-end textures, Biotherm Homme's biologists infuse the unique skincare properties of carefully-sourced water-life actives into every product to protect men's skin from the damages caused by intense urban lives. By using water-born ingredients in its products, Biotherm Homme is incredibly close to men's skin. In fact, the skin faces the same aggressions than these living organisms that have to defend themselves against sunlight, pollution, or bacterial attack. This affinity is called bio-mimicry and is further strengthened because skin is 70% composed of water.
Biotherm Homme looks for exceptional ingredients powered by nature and amplified by science to bring it to men's skin. The brand's particularity? It has been searching the depths of the oceans to find exceptional skincare ingredients. Biodiversity found in our waters, including Biotherm's unique regenerating Life Plankton™, holds unparalleled potential for skincare products, and Biotherm Blue Science brings these powerful actives to advancing performance and pleasure in skincare. Other ingredients include Blue Algae Extract, known as "the skin rebuilder", a microalgae rich in proteins, amino acids, and vitamins. Biotherm is also deeply involved in environmental protection when it comes to its products. We source these water-born actives, via biotechnology – "the technology of living things". As an expert in sustainable and controlled processes to reproduce purer and more active versions of ingredients in laboratories, the brand leaves the waters' original habitat undisturbed.
Biotherm Homme: a commitment to water preservation
Since 2012 Biotherm has been committed to the preservation of the oceans with its Water Lovers program. We inform people and encourage them to take action with our partners such as the Tara Ocean Foundation regarding the risks of plastic, and the Surfrider Foundation Europe regarding beach cleanups and the collect of plastic debris. We also contribute to oceans preservation through the protection of Hope Spots with our partner Mission Blue.
The oceans' preservation is at the heart of Biotherm and in our video "Into the Depths", the Paralympic swimmer Théo Curin, Biotherm's Water Lovers ambassador, brings awareness about the threat of plastic pollution. Furthermore, we also commit to preserve waters and fight plastic pollution with our products such as the new Waterlover Sun Milk. In 2020, the suncare received the Nordic Swan Ecolabel, one of the world's most demanding environmental certifications. Indeed, bottles are made of 100% recycled plastic and are recyclable, and its formula has a 97% biodegradable base.
By using miraculous ingredients powered by nature and amplified by science, Biotherm Homme has been a pioneer and a leader in men's skincare for more than 30 years. Furthermore, our men's skin knowledge has helped us design products specifically tailored for men. Skin is reinforced, protected from intense life, and fatigue is no longer an issue. Want to look your best self? You know where to turn to!