Tips for men
Finding your way in the world of skincare can be a bit tricky. However, once you figure it out, you will find out that it is quite simple, easy, and particularly enjoyable. Furthermore, taking care of your skin and implementing a thoughtful skincare routine will strengthen your skin, protect it, and make it healthy. Read on for more!
You want to take care of your skin, but you are unsure of where to start and what to focus on? Here we tell you everything you need to know about the best skincare routine to adopt whether you want to strengthen and protect your skin from external aggressors or if you want to prevent signs of aging and get the youngest, healthiest looking skin ever.
A hydrating skincare routine if your skin lacks moisture and needs to be protected
Step 1: Cleanse
Removing impurities by cleansing your skin is fundamental for clean and fresh skin. With its gel that transforms into foam texture, the Aquapower Cleanser purifies your skin while also strengthening and refreshing it. It should be used in the morning before shaving or at the end of the day to clean off your skin from impurities. The Aquapower Cleanser will leave your skin soft, refreshed, and revitalized.
Step 2: Revitalize
A good way to soothe and refresh your skin after shaving or cleansing is to apply a lotion. The moisturizing and invigorating Aquapower Lotion will quench, soothe, and reinforce your skin. If your skin tends to feel tight or heated after shaving, this fresh lotion will erase these feelings making your skin hydrated, smooth and supple.
Step 3: Moisturize
To be strong and protected, your skin needs to be moisturized. Start your day by giving it a fresh start with the Aquapower normal and combination skin moisturizer, an ultra-moisturizing gel that will hydrate your skin for hours. Enriched with oligo-elements, vitamins, and moisturizing agents, this fresh and light gel will revitalize, tone, and quench your skin leaving a long-lasting comfortable sensation.
An anti-aging skincare routine if you are facing signs of aging
Step 1: Reshape
As we grow older, skin loses its firmness and elasticity, causing fine lines and wrinkles to appear. With its ultra-light, fast-absorbing texture, the Force Supreme Youth Architect Serum was specifically created to revitalize the skin, firm, and tone it. After four weeks, skin looks denser, softer, hydrated, and younger.
Step 2: Hydrate and repair
Enriched with Youth Algae ™ extract, Life Plankton ™, and Prox-xylane, the Force Supreme Youth Architect Cream moisturizes your skin and acts on all external signs of aging. With its non-sticky creamy texture, it hydrates the skin while making it stronger, more tonic, and firmer. Saggy skin disappears and contours are reshaped. Skin regains its youthful appearance.
Step 3: Correct the eye contour
The eye area being the most fragile part of the face, this is where signs of aging first start to appear. Ultra-fresh, non-greasy, and non-shiny, the Force Supreme Youth Architect Eye quickly penetrates the skin around the eye area to smoothen fine lines, reduce under-eye bags and dark circles, and re-plump the eye contour. Applied in the morning and/or in the evening, this ultra-light gel revitalizes your look and makes it sharp again.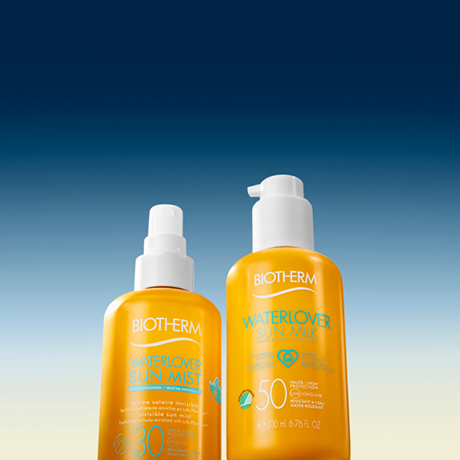 Protect your skin from the sun no matter your age
Protecting your skin from the sun is fundamental if you are mindful of your skin and want to keep it healthy. The new eco-labeled Waterlover Sun Milk certified with the Nordic Swan Ecolabel, one of the world's toughest independent environmental certifications, protects your skin while preserving the oceans. In fact, with its 97% biodegradable base formula and bottles made with 100% recycled plastic, the Waterlover Sun Milk guarantees efficient protection while being respectful of the waters. Enriched with Life Plankton ™ probiotic fraction and antioxidant vitamin E, its formula is highly sensorial and water-resistant, and delivers high protection (SPF30 and SPF50) against UVA and UVB for strong skin protection. This melting and hydrating suncare will leave your skin moisturized, smoothed, and supple for an even, lasting, and radiant tan. As for the Waterlover Sun Mist, it also preserves the oceans with its biodegradable base formula and bottles made of recycled plastic but has a transparent and misty texture. This ultra-light protection with instant absorption is non-oily, non-sticky, and water-friendly. Hydrating and transparent, this mist leaves your skin glowy, fresh and hydrated for a healthy, even and luminous tan.
Implementing a thoughtful skincare routine is a must if you want healthy, strong, and protected skin. As years go by, the skincare routine changes with products that are specifically designed to treat signs of aging and answer your skin's specific needs. But no matter your age, always keep in mind that you should protect your skin from sun damage. Get ready for the healthiest looking skin ever!