Tips for men
Summer is here and with it comes delightful warm weather, hot sun, and endless days at the beach. This change of daily life also means you have to adapt your skincare routine for this new season, but do not worry it is quite simple. Read on to discover the keys to easy skincare!
With the change of weather as well as with the change of routine, adapting your skincare routine is fundamental. Days in the sun implies that you need to protect your skin from damaging UV-rays as well as moisturize it. Here we tell you everything you need to know about how you can adopt the simplest summer skincare routine to keep your skin healthy all season long and even longer!
Step 1: moisturize, moisturize, moisturize
With this warm weather, the last thing you feel like is applying a heavy, sticky, greasy moisturizer? The good news is that Biotherm Homme has designed light and refreshing moisturizers to keep your skin strong, protected, and healthy! For instance, the Aquapower Normal and Combination Skin Moisturizer hydrates your skin while leaving your skin with a fresh sensation. With its ultra-light gel texture, this oligo-thermal care rapidly penetrates the skin and moisturizes it in depth. Enriched with soothing Life Plankton™, it also relieves the skin from feelings of tightness, redness is evened out, and the skin is smoother and softer. Ultra-fresh, this gel is the perfect ally for a moisturized, strong, and protected skin even during summer days!
Looking for something even fresher in your summer skincare routine? Aquapower 72h Moisturizer is the way to go. This concentrated glacial skincare has the power to lock moisture in for up to 72h. With its ultra-light aquatic texture, it quenches your skin while giving you a feeling of instant cool. Formulated to add moisture at the surface of your face and to keep hydration locked up, your skin is moisturized in-depth and feels protected against external aggressors and environmental conditions. Your skin is prevented from drying out and feels more hydrated all day long no matter the conditions: heat, pollution, humidity… Skin is nourished, toned, soft, and supple all day long. Revitalized and fresh, your skin can breathe even in the warmest and humid weather. Say hello to cool and easy skincare!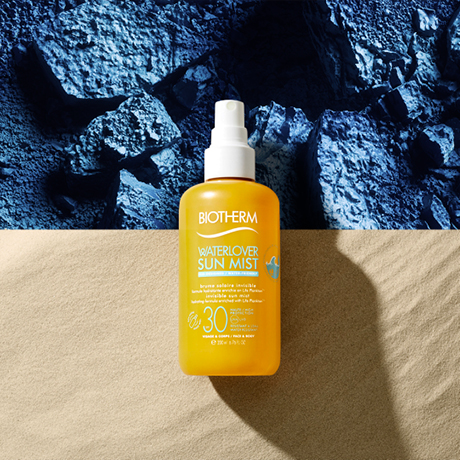 Step 2: protect your skin from UV-rays
A summer skincare routine cannot go without protecting your skin from UV-rays. In fact, protection is fundamental to prevent premature aging and to keep strong and healthy skin. While you are not against putting on some suncare lotion, you hate it when it is sticky and greasy? Using the Waterlover Sun Mist is a good solution if you want to give your skin efficient protection while leaving it fresh and hydrated. This ultra-light suncare with instant absorption is also eco-friendly and allows you to take care of your skin and the waters at the same time. With its 97% biodegradable base formula and 100% recycled bottles, the Waterlover Sun Mist preserves the oceans and protects your skin giving you a luminous, even, and healthy tan. Your skin is fresh, hydrated, and highly protected.
You can also opt for the new Waterlover Sun Milk for a melting and hydrating protection to implement in your summer skincare routine. In 2020 Biotherm goes one step further in its commitment to preserve water with the Waterlover Sun Milk that has gained recognition from the Nordic Swan Ecolabel, one of the world's most recognized and demanding environmental certifications. The Nordic Swan Ecolabel is a world leader in eco-labeling, its certification evaluates the environmental impact on the whole product's life cycle, climate requirements are taken into account, and CO2 emissions (and other harmful gas) are limited - where it is most relevant. With its eco-tested and eco-labeled sun filters, the Waterlover Sun Milk has a 97% biodegradable base formula and 100% recycled bottles (which are recyclable). The biodegradable formula was tested on Biotherm's aquatic platform. Indeed, this platform holds 7 microorganisms that are representative of life in the waters and the oceans and allows the brand to make sure the formula is respectful of this aquatic life. With the Waterlover Sun Milk, you can protect your skin without worrying about harming the planet!
Adopting a summer skincare routine is nice and easy: just remember to moisturize and protect your skin for damaging UV-rays with the right products. Are you ready for this amazing summer?