skin mood
How can I adapt my summer skincare routine to the fall season?
Think of your skincare routine like your wardrobe. You need to clean out your closet each season and adapt what you wear to the changing weather, your changing mood, and daily activities. Summer skincare routines involve lighter, more cooling products to protect and refresh the skin. As fall rolls around and the weather gets colder, the air gets drier and we head inside, our skin needs more moisture and richer, more nourishing treatments. With just a few tweaks to your summer routine, fall skincare will be a (cool) breeze.
Here are our tips for transitioning your skincare routine from those hot summer nights to that crisp autumn city chill.
Step 0: Start with a clean slate with Life Plankton™ Essence
Wake up to renewed skin every day with Life Plankton™ Essence. Use it every morning and evening before anything else to boost the efficiency of your full daily routine. Life Plankton™ Essence is as actively concentrated as a serum, yet as lightweight as a cosmetic water for maximum skin hydration, absorption, and deep-working effectiveness. It is instantly soothing, smoothing, and illuminating. Start your morning ritual with a few drops, warm in your hands then dab onto your forehead, cheeks, and chin. Regenerate with an "8" gesture to stimulate your skin's self-renewal even more.
Step 1: Renew with the healing power of Life PlanktonTM Elixir
As the season changes, skin can become dry or irritated. Scientific research has shown that Life Plankton™ can be used to help normalize the skin's cutaneous barrier and reduce the inflammation that causes the symptoms of sensitive skin. Life Plankton™ Elixir is your best ally to protect your skin from urban aggressions like accelerated aging, and changes in weather as fall rolls around. With its proprietary ingredient Life Plankton™ probiotic fraction at its highest 5% concentration, this fundamental serum has incredible skin-strengthening and anti-aging properties. Our skin naturally renews itself, but as we age, this process can slow down and not function as well. Life Plankton™ Elixir optimizes this renewal process so that the skin stays looking healthy and young.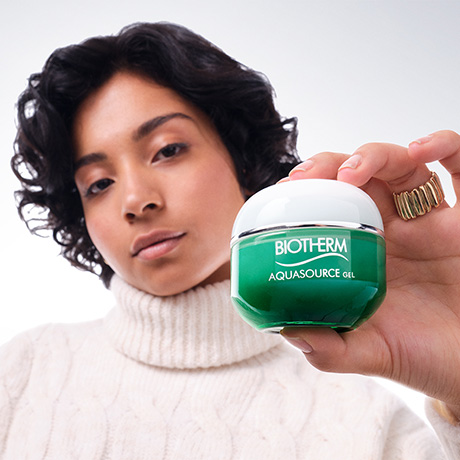 Step 2: Moisturize with Aquasource Gel or Blue Therapy Red Algae Uplift Cream
You may start to notice that your skin feels a bit tighter or more irritated, signs it is starting to become dehydrated. Treat dry skin and keep it looking healthier from day to night with Aquasource Gel. Rich in Life Plankton™ and Mannose, Aquasource Gel improves the skin's cellular renewal and reinforces the skin barrier. In just one application, see visibly glowing skin and experience 48h of intense regenerating rehydration. For more mature skin, use Blue Therapy Red Algae uplift cream. This fresh, velvety oil-in-water emulsion instantly lifts and smooths skin to reveal its rosy radiance. Hydrolyzed Rhodophycea Extract also known as Red Algae reinforces skin elasticity and restructures collagen fibers while smoothing wrinkles.
Step 3: Open your eyes to a new season with Life PlanktonTM Eye cream
Heading back to the city after some time on the beach? The change in seasons, pollution, and extra stress can affect sleep cycles and zap energy. All of these factors can cause eye bags, dark circles, and wrinkles under the eyes. Life PlanktonTM Eye cream targets the eye area for a more well-rested, healthy, depuffed appearance. t envelopes the eye contour area to instantly form an additional natural skin barrieror protection against further aggressions while intensely hydrating and nourishing it. The eye contour looks denser, firmer and more resilient, and wrinkles and fine lines appear diminished. Fight signs of fatigue so you can trade those endless summer nights for fall fun without showing it on your face.