ask biotherm
Go beyond skin deep: Discover the ingredients
Biotherm products leverage science to support nature. Since the beginning, Biotherm has harnessed the power of aquatic plants and microorganisms to transform them into key actives using a variety of cutting-edge technological processes. The result? Formulas that help to protect the skin against urban aggressions. Our formulas also help to preserve the oceans at the same time through a sustainable approach to skincare. Learn more about the ingredients inside Biotherm products and how each one works in different ways to heal, protect and renew the skin, whatever your skin type.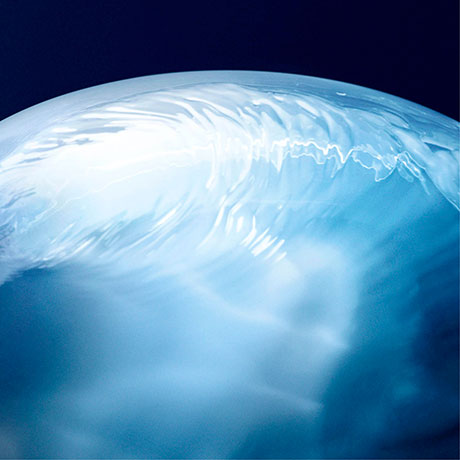 Regenerate with Life Plankton™ probiotic fraction
Biotherm's exclusive ingredient has an exceptional skin affinity that lends it unequaled regenerating properties and biological activity. Through its action on skin renewal and cellular metabolism, it stimulates skin's vital functions. Life Plankton™ probiotic fraction reinforces and naturally stimulates the skin's defense to fight skin damages due to intense urban lifestyles,. At its highest concentration in Life Plankton Elixir, it contributes to renewing and protecting, enhancing skin quality to leave the complexion soft, smooth and glowing. It reactivates skin cell renewal, strengthens skin barrier and preserves skin structure. Find Life Plankton™ in all of Biotherm's products, with a healing dose of 5% in Life Plankton™ Elixir.
Plump with Hyaluronic Acid
Hyaluronic acid, aka sodium hyaluronate, is naturally present in the dermis and the epidermis. It is a glycosaminoglycan (GAG), a natural humectant capable of retaining 1000 times its own weight in water. By capturing water, it swells and helps smooth the appearance of surface wrinkles. It moisturizes and keeps the skin soft and supple. Hydrolyzed Hyaluronic Acid is a low molecular weight hyaluronic acid made from fermentation-derived hyaluronic acid. Its small size allows it to better penetrate the skin surface and rejuvenate the skin by working as a space filler: it fills wrinkles from inside and reduces the appearance of deep wrinkles as well as crow feet. It also contributes significantly to the elasticity of the skin.Find Hyaluronic Acid in Life Plankton™ Elixir, in Aqua Super concentrates, in Aquasource Everplump and Life Plankton™ eye treatment.
Glow with Vitamin C
Vitamin C is found in acidic fruits such as citrus fruits, blackcurrant or strawberries and vegetables such as broccoli, cauliflower, spinach and potatoes. Vitamin C fulfils numerous important functions for the metabolism of almost all the body's tissues, particularly the skin. It neutralizes oxygen free radicals. In addition, vitamin C plays a role in the synthesis of skin lipids.. Pure vitamin C is very sensitive to oxidation and very unstable, so Biotherm's bioscientists synthesized it into a stable form for better durability. Vitamin CG is a glucosyl form of vitamin C, which makes it stable in the presence of oxygen, metallic ions and heat. Included in a skin care formula, Vitamin Cg helps skin surface exfoliation. It has an anti-free radical action which has a positive effect on pigmentation and evens and clarifies skin tone for a more radiant complexion. Find Vitamin C in Life Plankton™ Elixir and Aqua Super concentrates.
Firm with Red Algae
Red Algae, aka hydrolyzed rhodophycea extract, grows along the rocky parts of the Atlantic coasts from Europe to North America, it is capable of transforming and restructuring itself constantly when challenged by a harsh environment. It deploys itself when living conditions are optimal, and curls over when they are aggressive. Incredibly elastic, yet resilient, it preserves its youthful, unharmed shape day by day, year by year. Biotherm biologists have captured its extraordinary uplifting power for skin. Thanks to its components similar to skin's dermal matrix, it helps preserve collagen fibers structure and prevents elastin fibers from breaking down, contributing to reshaping your facial contours and smoothing your wrinkles. Find this unique ingredient in Blue Therapy Red Algae uplift Rich and Night creams.