ask biotherm
Glowing gestures
When we meet a woman with luminous skin, we want to know: 'What products is she using on her face?' While powerful formulas are crucial, did you know that how you apply your skincare products is also important? Application techniques are part of the secret to improved radiance and even firmer skin. Facial massaging techniques can boost circulation and allow the skin to better absorb the products you are applying.
Kneading or tapping the skin brings more oxygen to the skin to maximize the benefits of cleansers, serums and moisturizers and it can also help to smooth lines and reduce stress and headaches. Furthermore, stress is linked directly to the state of our skin so turning your daily skincare ritual into a mini spa day at home is a win-win.
Here are 5 tips to pat, glide and massage your way to radiant skin.
Step 1 : Regenerate with an '8' Gesture
Stimulate your skin's self-renewal with this number 8-shaped gesture. Take 3-4 drops of Life Plankton Elixir™ probiotic fraction into the palm of your hand. Apply onto your face with light strokes on your cheeks, forehead, chin and neck. With your fingers, draw the figure 8 on your cheeks, cheekbones, forehead and chin. Your skin will feel immediately smoother and look more even and more radiant. This technique maximizes the effects of Biotherm's fundamental serum and prepares the skin to receive the rest of your skincare routine. Infused with a healing dose of Life Plankton™, this breakthrough serum has a light, fast-fusing and fresh texture that is instantly absorbed into the skin.
Step 2: Hydrate with a 'Rain' Gesture
Stimulate skin tissue to bring moisture from the deep layers of your skin with this 'rain' gesture. Drum your fingertips over your entire face from your forehead down to your jaw like 'rainfall." Apply Aquasource gel with light strokes. Aquasource intense regenerating moisturizing gel improves the skin's cellular renewal and gives skin 48 hours of intense regenerating hydration – even the most dehydrated skin and dullest complexions are visibly transformed. This formula, boosted by the rain gesture, helps to replenish the skin's natural moisture reserves to restore its natural ability to glow. This lightweight watery texture gel melts onto the skin and leaves it fresh and perfectly moisturized.
Step 3: Illuminate with a 'Waves' gesture
The 'waves' gesture improves the internal circulation of static fluids for a healthy glow. Press and curl out all your fingers from the center of your face outward from the jaw up to forehead, like waves. Apply this technique to Blue Therapy accelerated cream to boost circulation. Next, grasp and roll the skin over any wrinkles between the index and thumb positioned horizontally from the jaw to the forehead. It refills the depth of wrinkles to get back skin density and smooth wrinkles away.
Step 4: Lift with a 'Current' gesture
For an extra lift, apply Blue Therapy Red Algae Rich or Night cream. This technique will help uplift your face contours. With your fingertips, smooth along your jawline until your neck to lift it. Smooth upwards from the corners of your lips to the outer corners of your eyes, and then from your eyebrows to the top of your forehead. This technique boosts the effects of this ultra-sensorial rosy cream for a moment of comfort and calm as the active ingredients get to work to reinforce the skin's youthful appearance and lift and firm the skin structure. Red Algae, aka Hydrolyzed Rhodophycea Extract, reinforces skin elasticity and smoothes wrinkles by preserving collagen fibers structure. Life Plankton™ improves skin metabolism, reinforces skin barrier and preserves skin structure for an optimal anti-aging effect.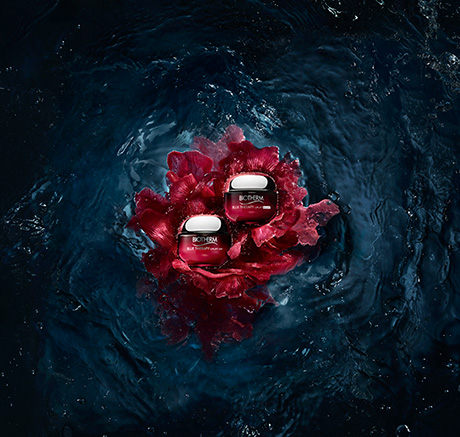 Step 5 : Massage your eyes
Revive tired eyes look with this easy eye massaging technique. The first signs of fatigue and visible signs of aging skin typically appear around the eyes. Give this sensitive skin area an extra boost with Life Plankton™, Eye for eyes that look immediately brighter, more resilient and younger. Using both ring fingers, take a rice grain-sized amount of the eye cream and apply it to the 8 indicated zones of the eye contour. Dab the eye cream using the ring fingers-above and below the eye contour, as indicated in the photo above, until cream is fully absorbed. To maximize the effects of this cream-gel formula even more, use the Life Plankton™, Miracle Eye Massager. Sweeps the metallic roller below and above the eye contours to regenerate and refresh the eyes with the "8" gesture. Repeat these 3 times a week.
Bonus moves
You can also adapt your facial massage to your skin's specific needs during any given season or day. If your skin is dry, try a "bounce" effect. On the cheek area, starting next to the nose and moving outwards, using three fingers, apply pressure and release creating a "bounce" effect. Repeat on the forehead. If skin is dull, try the 'C' gesture. On the cheek area, starting next to the nose and moving outwards, draw C's on your face. If skin has imperfections, try an easy facial detox. On the cheek area, starting next to the nose and moving outwards, start with your four fingers closed and as you move outwards open your fingers finishing at your neck. Repeat twice.