ask biotherm
What is your "skin age"?
Did you know that your skin age is based on more than the amount of years you have lived? Your skin age is based on your biological age, but also your lifestyle habits such as what you eat, your stress levels, sun exposure and skincare habits. It is important to know what your true skin age is so that you can find the right products to adapt to your skin's individual concerns.
Can a selfie change your skin?
Skincare may feel like a never-ending struggle where you try so many different products and never find the ones that work. If this sounds familiar, it is time to try the Skin Age Scan.
Our new effortless at-home diagnostic tool Skin Age Scan delivers a complete skin diagnosis and personalized routine adapted just for you, anywhere and anytime. With just a selfie and some lifestyle questions, the Skin Age Scan analyzes your skin. The tool asks questions about your skincare habits then suggests products to help improve the texture, hydration and tone of your face.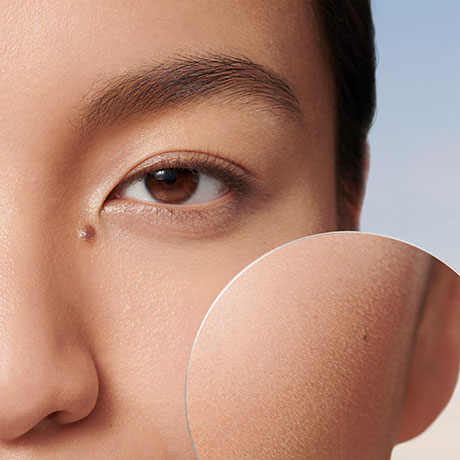 How does it work?
A breakthrough in your beauty routine is just a few steps away. Reveal the true age of your skin and find the perfect routine for your active urban lifestyle wherever you are and whatever your chronological age. The Skin Age Scan combines advanced AI technology with Biotherm's Bioscience to provide a detailed skin analysis and personalized routine. It is easy to use. Just snap a selfie and let the Skin Age Scan do the rest. Here is your step-by-step how-to guide to get the most out of your Skin Age Scan experience.
Step 1 Take a selfie.
Make sure you are not wearing glasses, a mask or any other facial accessories and look forward into the camera.
Step 2 Answer some lifestyle questions.
Tell us about your daily habits and living environment.
Step 3 Get your diagnosis
The Skin Age Scan will process the information to reveal the true age of your skin and identify concerns.
Step 4 Find your 100% personalized skincare routine
Discover all of the products perfectly adapted to your skin and an easy-to-follow detailed 7-step routine.
What are the results?
The Skin Age Scan analyzes 5 skin characteristics: Resilience (sensitivity), Smoothness (Wrinkles), Firmness (elasticity) Uniformity (Dark spots) and refinement (pores visibility). It reveals the true age of your skin so that you can learn how to care for it and heal it from urban aggressions. It then gives you the skin ritual and products best adapted to your individual skin and lifestyle in 7 steps: Cleanse, tone, regenerate, treat, moisturize, treat eyes and protect. An all-in-one tool to diagnose and treat your skin anytime and anywhere. Start the year off with a brand new skincare routine just for you. The result? Younger-looking, smoother, more radiant skin that is healed from urban aggressions. Transform your skin now with just one selfie.