ask biotherm
Your eyes are your window to the world and they can be the first places to show signs of aging skin. The tender skin around your eyes is much thinner than the skin on the rest of your face, making it extremely sensitive.
What causes dark circles, puffy eyes and wrinkles?
1. Lack of sleep
As you sleep, your skin cells regenerate and produce collagen and elastin. When you do not get enough sleep, your skin cells do not have enough time to recuperate and this can result in bags, dark circles and even droopy eyelids. Sleep deprivation can also cause fluid to build up under the eyes making them look puffy either under the eyes in the form of bags or on the lids that can cause a shadow of dark circles
2. Winter weather
The lack of sunlight in the colder weather makes skin paler and can emphasize eye bags and dark circles even more. Dark circles appear because the skin under the eyes is so thin that blood vessels can be visible under the skin.
3. Age
As you get older, you lose the fat and collagen needed to maintain skin elasticity so the dark blood vessels under your skin become more visible and the area under your eyes to darken.
While there is nothing like a full night's rest, here are some eye-opening ways to give your eye area extra care to brave any winter storm.
Life Plankton™ Eye
Highly efficient anti-aging eye cream, Life Plankton™ Eye helps to renew skin cells layer after layer so the eyes look immediately brighter and feel more resilient. This cream-gel is light yet nourishing and protects the eye area like a second skin barrier. Fine lines are smoother, dark circles fade, eyes look more luminous and younger. Life Plankton™ helps the skin cells under the eye to heal, renew and regenerate, and hyaluronic acid moisturizes and keeps the skin around the eyes soft and supple. Dab the cream using your ring fingers above and below the eye contour. Complete this healing treatment with Life Plankton™ Elixir, a serum specially created to heal urban accelerated aging and see the difference in just 8 days.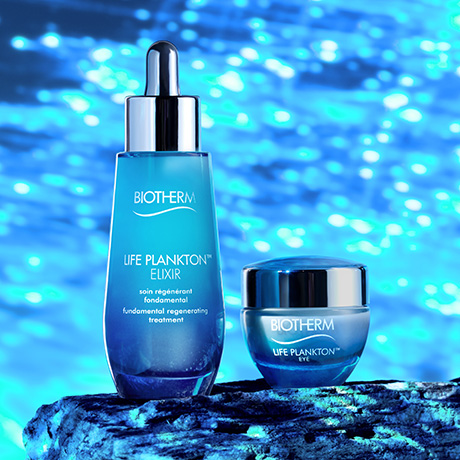 Blue Therapy Eye Cream
While you cannot turn back the hands of time, Blue Therapy Eye Cream can help to reduce the appearance of crow's feet and under eye bags. It goes deep beneath the surface to regenerate skin, reduce darkness, and lack of firmness in the eye area for a stronger, younger, more luminous look that shows no signs of aging. With our healing ingredient Life Plankton™, this formula contains L.Ochroleuca to protect and firm the skin and A.Flos Aquae to stimulate skin renewal and reinforce skin structure.
Blue Therapy Eye Opening Serum
Add a Blue Therapy boost with Blue Therapy Eye Opening Serum to lift the upper lids, depuff undereye bags, reduce dark circles and lift, strengthen and extend lashes. It wakes up the eyes thanks to a cooling concoction of Life Plankton™, Algae of Youth, L.Ochroleuca, and Caffeine, known for its draining and decongesting properties to promote the micro-circulation of the skin.
Aquasource Total Eye Revitalizer
Aquasource Total Eye Revitalizer is perfect for those days when you need a fast eye awakening. Biotherm's first flash eye cream awakener instantly revitalizes your eyes with the intense hydration agents of Aquasource enriched with a combination of cooling, de-puffing and blurring complex.
In addition to regenerating Life Plankton™, mannose reinforces the skin's natural defenses and locks in hydration, and caffeine helps to promote skin microcirculation. This fresh, pearly gel is suitable for sensitive skin types, sensitive eyes and even contact lens wearers. Apply to the eye contour morning and night.