ask biotherm
What are face masks?
Face masks are the ultimate skin indulgence. Think of them as slumber parties for your skin, cocoons of coziness that rehydrate the skin in the morning. Face masks are super-powered versions of your favorite skincare formulas that infuse your skin with an abundance of nutrients to give it an immediate boost. While face masks are not designed for everyday use, they are the perfect complementary companions to your daily skincare routine to help fight urban skin aggressions in one powerful dose.
How do face masks work?
Face masks work by driving ingredients deeper into the skin to infuse your pores and let the skin soak up more of the product. Face masks are also left on the skin longer than typical gels, creams or cleansers so they have a refreshing, soothing effect on the skin. Plus, they can show results immediately to get your glow on before a big day or important event.
What is the best face mask for your skin?
Not all masks are equal. It is important to make sure you mindfully choose the right mask according to your skin's individual needs such as your skin type, lifestyle, or the current season. Understanding your skin type is the first step to mastering your mask game. Is your skin dry, normal, oily, or combination? Pay attention to what is happening around you as even normal, oily or combination skin can still get dry in wintertime.
Heal with the Life Plankton™ Mask
You may not be able to see it, but this mask is working hard while you sleep. Thanks to its highly concentrated formula of Life Plankton™, this invisible mask repairs, soothes and makes the skin stronger. It is the ideal rescue mask to nourish skin with intense hydration and help to reinforce the skin's barrier. Use twice-weekly when your skin shows signs of damage, appears lifeless, feels dry and tight, or looks red and irritated. Leave it on overnight then wake up to luminous, smoother, bouncier skin.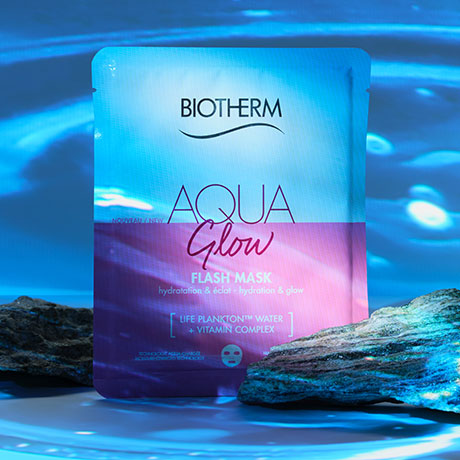 Bounce back with Aquasource Everplump Night
There is a reason they say "get your beauty sleep." While you sleep at night, you may be resting, but your skin is still active. Sleeping accelerates skin repair and regeneration. Your skin is more permeable, making it more receptive to absorbing skincare products. However, this also causes the skin to lose more moisture as you rest.
Aquasource Everplump Night mask creates a natural second skin barrier to lock and replenish skin with plumping moisture all night long. The mask is a combination of the healing power of Life Plankton™, dark activated algae extract, and Blue Hyaluron. The dark activated algae extract works only in the absence of light to help skin cells to regenerate and recover. While you sleep, skin bounces back into shape and wakes up intensely replenished & plump. After just one night, the skin is nourished, feels more comfortable, and looks more radiant. After one week, the skin is revitalized, looks replumped, bouncier, and more elastic.
Use twice a week as part of your night routine.
Hydrate your skin in a flash with the Aqua Flash Masks
The Aqua Flash Masks deeply infuse the skin with intense hydration thanks to a powerful combination of probiotic Life Plankton™ water and healing ingredients. In just 15 minutes, each mask specifically targets the top 3 concerns for women's skin: dryness, dullness, and breakouts. The masks were made for maximum moisture retention and give a second skin effect.
The Aqua Glow Flash Mask combines probiotic Life Plankton™ water with vitamin C, known for its powerful illuminating properties. It supercharges the skin with moisture while boosting the complexion's natural glow for radiant and even skin after just one application. It is a great choice to fight dullness, roughness, and an unhealthy looking complexion.
The Aqua Bounce Flash Mask is powered by the intensely hydrating hyaluronic acid and probiotic Life Plankton™ water. It is the perfect choice for skin suffering from dryness, tightness, and signs of dehydration. It delivers the perfect dose of hydration for smooth, supple, and luminous skin. One application is all you need for bouncy, deeply replenished, and dewy skin.
The Aqua Pure Flash Mask is formulated with probiotic Life Plankton™ water and salicylic acid, known for its powerful purifying properties. This mask acts to fight excess of sebum, enlarged pores, and skin irregularities and imperfections. After one sheet mask, skin looks more refined, purified, and fresh and pores appear tighter and less visible.