ask biotherm
Fresh sea, warm sun, soft sand sliding through your toes… You can already smell the scent of holidays. As excited as we may be, summer also implies that we give special care to our skin. If you are looking for the best skin care tips for summer, you have come to the right place. Read on for more!
You love taking care of yourself and your skin, and you are looking for a way to adopt the right skincare routine for summer? Indeed, depending on the season, your beauty regimen has to be adapted because your skin has different needs. Here we tell you everything about the 3 best ways to treat your skin this summer.
1: Renew your skin this summer
Exfoliating should be number one on your list if you are aiming for healthy summer skin. As we live our intense urban lives, our skin has to deal with urban aggressors such as UV rays, pollution, lack of sleep that have an impact on its health. Our skin becomes dull, rough and pores start to show. Including a gentle exfoliation, two to three times a week will clean and purify clogged pores, slough away dead skin, and even your skin tone (allowing for an even tan if you are planning on soaking up some sun!). One of the gentlest exfoliating peel on the market, Life Plankton™ Mild Creamy Peel has the particularity of exfoliating the skin like a peel yet repairing it like a cream. It is enriched with Life Plankton™ probiotic fractions which allow regenerating aggressed skin and with squalane which helps to repair and balance oil production. With its transforming cream to peel technology, Life Plankton™ Mild Creamy Peel lifts urban impurities and heals your skin to improve absorption and make it radiant and smooth.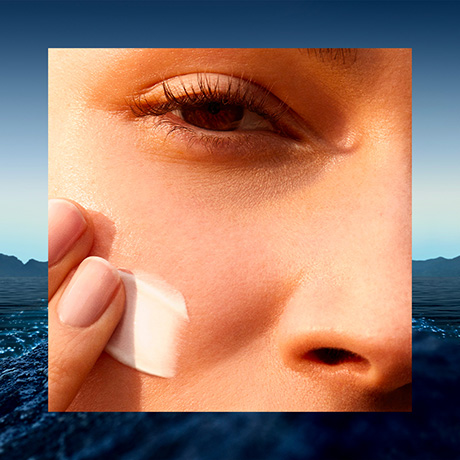 Along with exfoliating, implementing a regenerating serum in your skincare will renew and prevent your skin from accelerated aging. The one of a kind serum Life Plankton™ Elixir has been specifically designed to heal, transform, and renew your skin. Infused with Biotherm's unique ingredient Life Plankton™ at its highest concentration (5%), the serum protects, strengthens, and revitalizes your skin. Day after day, your skin appears healthier, is more luminous and smoother.
You may also want to give your skin a boost of hydration and improve its tonicity before or while it soaks up some sun. Infused with Hyaluronic Acid and Life Plankton™ water, Aqua Bounce Flash Mask moisturizes your skin and reduces transepidermal water loss. Applied after you have cleansed and dried your face, and before you apply your day care, this second skin tissue mask will tone your skin, improve its elasticity and firmness.
2: Hydrate and make your body firmer
Getting ready to enjoy some sun? Now is the perfect moment to get rid of dead skin and renew your skin. The solution? Exfoliation! Boost your skin renewal and say goodbye to dead skin with the smoothing Bath Therapy Delighting Body Scrub. With its combination of two natural exfoliators grains – argan powder and perlite –, this body scrub gently cleanses the skin, smoothens it, and makes it brighter.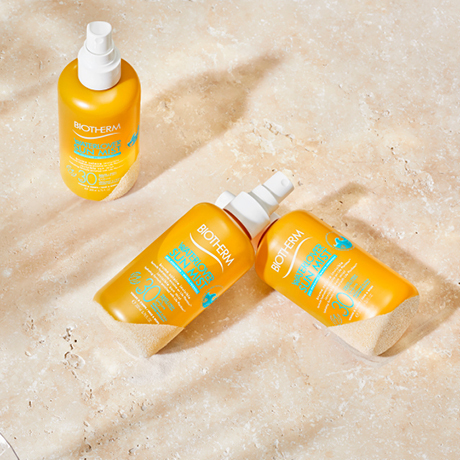 To help your body best face summer, it is fundamental that you moisturize your body in depth. Enriched with Biotherm's regenerating ingredient Life Plankton™ and three natural repairing oils, the Life Plankton™ Body Milk restores your skin and acts on a lack of firmness. Used every day, this unctuous firming body lotion will smoothen, soften, hydrate, and make your skin firmer. Skin is healed and ready to get exposed!
3: Use efficient sun protection for your skin
When it comes to sun exposure, we are all aware we need to protect our skin against damaging UV-rays, and as we become more concerned about the preservation of our oceans, we are also looking for eco-friendly solutions. This year Biotherm brought its eco-responsible commitment one step further with the new Waterlover Sun Milk, the brand's iconic sun care which now has the Nordic Swan Ecolabel, one of the world's most demanding environmental certifications. With its 97% biodegradable base formula, eco-tested sun filters, and a bottle made of recycled plastic (which is 100% recyclable), this fast-absorbing creamy sun care guarantees a lower impact on the waters and high-efficient sun protection. You can also opt for the invisible Waterlover Sun Mist that protects the skin, respects the oceans, and leaves no white traces upon the skin.
Protected, healed, and renewed, your skin is ready to enjoy summer!