ask biotherm
There is nothing better than enjoying long and warm summer nights. But as fun as it can be, lack of sleep can affect the skin: eye bags and dark circles may appear under the eye area and complexion can start to look dull. You are looking for a way to say goodbye to these under-eye bags and restore your glow? Read on for more!
Intense life, whether it is because of extended active days or long summer nights, can have an impact on the way we feel and the way our skin looks. The skin may not look as glowy, and accelerated signs of aging such as dark circles and fine lines can start to look visible. However, this does not mean we should not take advantage of our lives, and as much as it is important to keep a healthy lifestyle, including highly efficient products in our skincare routine helps to prevent these accelerated signs of aging on our skin and maintain a dewy-looking complexion. First, let's figure out what causes dark circles to appear, how to prevent and heal them as well as maintain a healthy glow all summer long!
What causes dark circles to appear?
Dark circles are unfortunately quite common and several factors such as lack of sleep or working all day in front of a computer can explain their appearance. Thus, if you are having extended active days or if you are taking advantage of long summer nights, dark circles may appear. Natural aging is also a factor – as years go by, skin becomes thinner, the skin loses its elasticity making dark blood vessels beneath the skin more visible and causing dark circles. These are the most common factors but the good news is that there are solutions to prevent and treat these dark circles!
How can I prevent and heal dark circles?
The eye area is one of the most fragile part of our face and giving it specific care is really important. Indeed, when signs of aging start to appear, they usually begin to be visible around the eye contour. Infused with Biotherm's unique regenerating Life Plankton™, Life Plankton™ Eye reduces eye bags and dark circles under the eyes and makes your eye area look younger. Nutritious and light, Life Plankton™ Eye has a creamy gel texture that envelops the eye contour and protects it from further aggressions. It intensely hydrates and nourishes the eye area, makes it look denser, and diminishes puffiness and dark circles. This high efficacy eye cream also prevents premature eye aging by maintaining the skin's renewing capacities and fighting crow's feet and wrinkles. Implementing Life Plankton™ Eye in your daily skincare routine will help to reduce the damage provoked by the lack of sleep caused by your long active days or crazy summer nights!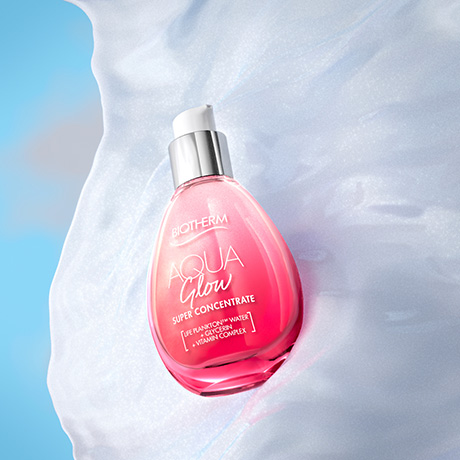 How can I make my skin more glowy when I lack sleep?
Intense life and sleep deprivation can make our skin look dull, rough, and unhealthy (even during summer!). Using the right moisturizer will help your complexion to look more radiant and will improve its overall aspect. Infused with Life Plankton™ water and vitamin complex, the Aqua Glow Super Concentrate boosts your skin's natural ability to glow. This lightweight moisturizing emulsion intensely heals dull skin and dehydrated skin. Day after day, it makes your skin look smoother, makes your tone more even, and gives you a healthy glow. With its micro-emulsified fluid texture, this moisturizer replenishes your skin with energy, natural radiance and keeps your skin hydrated. If you are aiming for dewy skin, the Aqua Glow Super Concentrate is definitely for you. And for a luminous skin in just a flash, you can go for the Aqua Glow Flash Mask, a moisture charged sheet mask that will intensely hydrate your skin, reduce its dullness and make it feel incredibly fresh. Whenever you want to get your radiance back, Aqua Glow is the way to go!
After understanding the causes of dark circles and knowing how to prevent and get rid of them, you are all set to enjoy summer. As for your glow, you now have an instant solution. It is time for fun!