ask biotherm
Blue sky, shining sun, warm temperatures… Summer is in the air! You have been eagerly waiting and preparing your skin for this great time of year, but one thing is still bothering you: your skin tends to be oily and you are wondering whether using a moisturizer is necessary, especially with warm weather? Well, turns out it is a must!
While using a moisturizer on oily skin may seem counterintuitive, it is essential to make it healthy and clear. One of the reasons why your skin might feel oily is because it has an excess of sebum and using the right moisturizer will address this issue. Keep reading to find out everything about the best skincare routine to adopt for a great, less shiny looking skin.
Do I have oily skin?
First, you must determine your skin type. Oily skin is caused by excessive production of androgens. Androgens are hormones that circulate in your body, they are usually at higher levels in men, but are found in women as well. Oily skin is characterized by an excessive production of sebum which leads to enlarged pores, blackheads, bumps, and of course greasy skin. With this skin type, you may be wondering if moisturizing may not make it worse. Well, it is on the contrary essential! What is key is that you find a moisturizer that is right for your skin – like a gel or serum that will not make the skin even more greasy. But first of all, the most important thing is to adopt a good skincare routine.
Why should I use a mild exfoliator in my skincare routine?
First and foremost, healthy skin must be gently cleansed. People with an oily skin type may think that they should cleanse it even more, but that is a mistake. Indeed, the worst way of treating oily skin is to clean it too much. The body tends to compensate what is missing so if you are constantly stripping away the sebum, the skin will answer by producing even more of it. Life Plankton™ Mild Creamy Peel has the particularity of being an extremely gentle cleanser that exfoliates like a peel yet repairs like a cream. Used three times a week, it helps to remove impurities and dead skin cells while repairing the skin's natural barrier at the same time. It has a transforming cream to peel technology that smoothly lifts off urban residue and micropollutants. You can say goodbye to clogged pores, dullness and roughness! Life Plankton™ Mild Creamy Peel gently exfoliates your skin, but it also renews it. Indeed, it is enriched with Life Plankton™ probiotic fractions which regenerate aggressed skin as well as with squalane which repairs and balances oil production. As a result, the skin's pores are refined and the sebum is balanced: your skin is radiant, smooth, crystal clear. While basic peels can harm the skin's barrier and increase Transepidermal Water Loss (TEWL), the soothing and regenerating blend of Patented Bioscience Probiotic Fraction and Squalane prevents TEWL and irritation.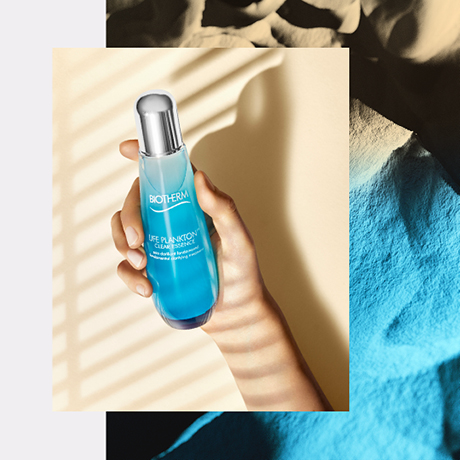 Why should I apply an essence before moisturizing?
The best way to make your skin healthy and to treat oily skin is to incorporate an essence into your daily skincare routine. As lightweight as cosmetic water, as effective as a serum, using an essence will make the skin more even, clearer and brighter. Used every day, it will create a healthy-looking canvas helping the application of the following moisturizer. Designed to be the first step of a beauty routine, Life Plankton™ Clear Essence heals the skin and regenerates it. Indeed, it is enriched with Life Plankton™ at its highest concentration, a pure thermal plankton extract that contains 35 nutrients, proteins, vitamins, amino acids, and lipids that help revive the skin's vital functions and which are essential to its health. Biotherm's regenerating Life Plankton™ enables a miraculous skin transformation thanks to its healing powers. In 8 days, the skin's water oil is balanced and the skin's texture feels smoother.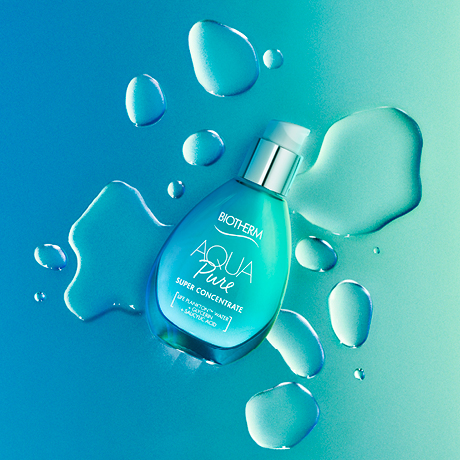 What type of moisturizer should I use on oily skin?
After applying the essence, comes the time to hydrate, but oily skin needs a moisturizer that is suited to this skin type. Thus, we recommend you use a moisturizer that is adapted for skin with imperfections and excess sebum such as our Aqua Pure Super Concentrate. Infused with Biotherm's miraculous Life Plankton™ water and salicylic acid, this fast-absorbing fluid moisturizer refines skin texture, rebalances excess sebum, and heals enlarged pores. Skin is less shiny, feels healthier, super-pure, and super hydrated!
While oily skin may be difficult to deal with, especially during summer, there is always a way to treat it and it starts with the right skincare routine. Now that you know everything, get ready to enjoy summer the best possible way!